[nextpage title="1″ ]
Besides post-workout, breakfast is really the only other time your body craves fuel. In the morning, we especially need good fuel to snap our bodies out of a catabolic state and into a muscle-building one. Start the day off right by feeding your muscles so you can have enough energy to power through the day and through tough workouts.
These 7 fit breakfast meals are perfect for any "Fit Man" or "Fit Woman" cook. They're not difficult, are quick, and most important, taste really good. Feel free to customize the portion sizes and ingredients to complement your diet and fitness goals. Add a protein shake in your favorite flavor on the side, and you'll be ready to tackle anything life throws at you from sunup to sundown!
1. EARLY RISER BREAKFAST
It's time to break out the cast iron skillet every fit cook should have one. This breakfast will cook in the oven as you get yourself and family ready for the day. Definitely worth a try!
Ingredients
1 cup liquid egg whites
3 whole asparagus spears
½ cup brown rice
¼ whole red onion, diced
1 clove garlic, chopped
½ fruit (3-3/4″ dia) grapefruit, raw, pink and red, Florida
1 scoop dymatize iso-100
Directions
Prep: 10 min.
Cook: 18 min.
Total: 28 min.
Set oven to 405 F.
Lightly spray a cast iron skillet with coconut oil or olive oil.
Add cooked brown rice and quinoa to the skillet.
Pour in egg whites, and then add asparagus strips and pieces and bell pepper slices.
Bake in the oven for 15-18 minutes (or until eggs are cooked).
[/nextpage]
[nextpage title="2″ ]
2. POST CARDIO PROTEIN BANANA SPLIT
Banana split for breakfast? Yep, you read that right. For all you who prefer to perform fasted cardio in the morning, here is an easy, customizable recipe to replenish those glycogen stores.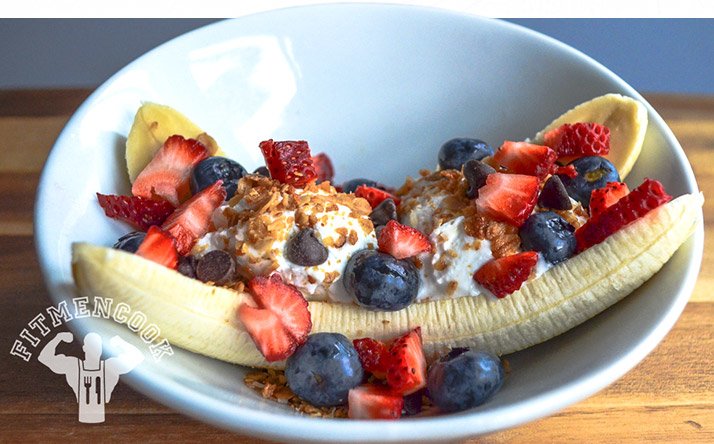 INGREDIENTS
BANANA 1 MEDIUM
NON-FAT GREEK YOGURT 3/4 CUP
DYMATIZE ISO 100 1/2 SCOOP
STRAWBERRIES 1 CHOPPED
BLUEBERRIES 1/4 CUP
GRANOLA 1 TBSP
CHOCOLATE CHIPS 1 TBSP
DIRECTIONS
Slice banana in half lengthwise and lay both sides in a bowl or on a plate.
Mix together protein and Greek yogurt and spoon on top of the banana slices.
Top bananas and protein mixture with berries, granola, and chocolate chips.
[/nextpage]
[nextpage title="3″ ]
3. PEPPERS WITH "FIT GRITS," EGG WHITES AND PICO DE GALLO
This meal is great for breakfast or, if you work out in the evening, a post-workout dinner. Regardless of when you have it, your body and taste buds will thank you.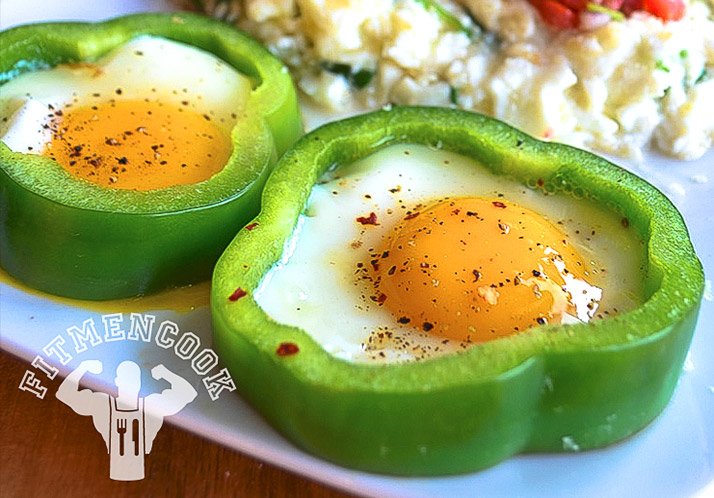 INGREDIENTS
EGGS 2
EGG WHITES 6
SPINACH 1 CUP RAW
BROWN RICE 1/4 CUP
BELL PEPPER 1/2
PICO DE GALLO
DIRECTIONS
Cook egg whites and farina separately. Mix together and add spinach. Cook until spinach is wilted.
Cut bell peppers horizontally to create 2 thick rings.
Lightly spray another skillet with coconut oil or olive oil and set on medium heat.
Place bell peppers rings in the skillet and crack the eggs inside the bell pepper.
Push down on the bell pepper sides to prevent spillage. Let it cook until the egg turns white.
Place cooked pepper rings and egg/farina mixture on a plate. Top whatever you'd like with pico de gallo.
[/nextpage]
[nextpage title="4″ ]
4. RED-EYE CHOCOLATE AND PEANUT BUTTER PROTEIN PARFAIT WITH BLUEBERRIES AND DARK CHOCOLATE CHIPS
This parfait packs a punch; and not just because it's made with Gaspari Nutrition ISOFusion. The shot of coffee gives you the jolt you need to jumpstart your day.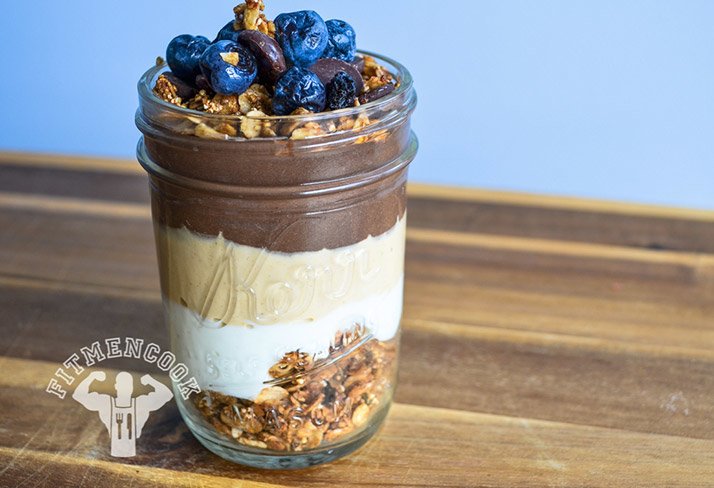 INGREDIENTS
GASPARI ISO FUSION 1 SCOOP
INSTANT COFFEE 1 TBSP
COCOA POWDER 1 TBSP
GREEK YOGURT 1 CUP
PEANUT BUTTER 2 TBSP
GRANOLA 1/3 CUP
BLUEBERRIES
DARK CHOCOLATE CHIPS 1 TBSP
DIRECTIONS
Add granola to a jar, glass, cup or bowl.
Add 1/3 cup yogurt on top of the granola.
Mix 1/3 cup yogurt with powdered peanut butter. Add to the jar.
Mix 1/3 cup yogurt with protein powder, coffee, and cocoa powder. Add to the jar.
Top parfait with granola, 1 tbsp of chocolate chips, and blueberries.
[/nextpage]
[nextpage title="5″ ]
5. PROTEIN FRENCH TOAST WITH SAUTÉED APPLES
There are just some foods that nearly every gym rat or gym bunny loves. French toast is one of them. Carb it up for a long day or a monster leg workout.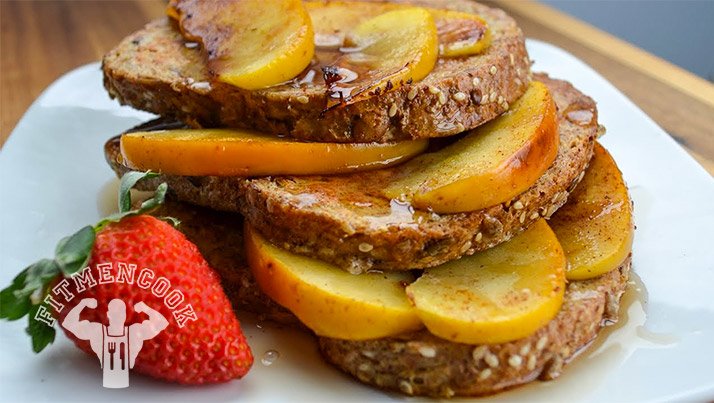 INGREDIENTS
DYMATIZE ISO 100 1 SCOOP
EZEKIEL BREAD 2-3 SLICES
ALMOND MILK 1/4 CUP
EGG 1
EGG WHITES 1
CINNAMON
OPTIONAL
APPLE
COCONUT OIL 1 TSP
DIRECTIONS
In a bowl, mix eggs, almond milk, cinnamon, and protein.
Soak each piece of bread in the mixture until it is all used.
Lightly spray a pan or skillet with olive oil or coconut oil and heat pan. Cook each piece of bread until each side has browned.
Top toast with your favorite syrup, sugar-free syrup, or honey.
[/nextpage]
[nextpage title="6″ ]
6. ANABOLIC MUSCLE BOWL
You want to start the day building muscle? This breakfast will get you there. I dare you to try this and not feel your "muscles feeding"—certified muscle food and energy.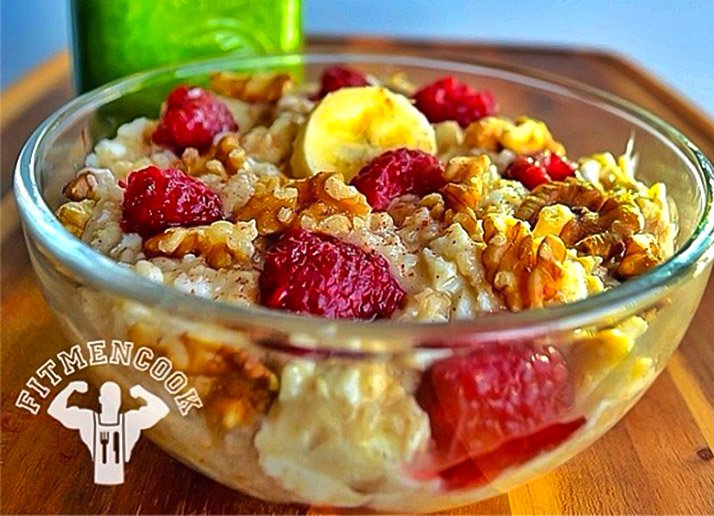 INGREDIENTS
EGG WHITES 6
OATMEAL 1/2 CUP
BANANA 1/2
WALNUTS 1/8 CUP
RASBERRIES 1/4 CUP
CINNAMON
RAW ORGANIC HONEY
DIRECTIONS
Cook egg whites in a skillet on low heat.
If you want to cook your banana, spray another skillet with coconut oil or virgin olive oil and set on low-medium heat. Chop half of the banana into pieces and add to the skillet. Use a spatula and be careful not to let the banana pieces stick to the skillet.
Combine oatmeal and egg whites in a bowl and mix.
Add cinnamon and Stevia (or raw honey) and mix.
Top with banana, raspberries, and walnuts.
[/nextpage]
[nextpage title="7″ ]
7. DARK CHOCOLATE GLUTEN-FREE PROTEIN WAFFLES
These pancakes are powered by Gaspari Nutrition MyoFusion. The "rite of passage" for any FMC/ FWC is making protein waffles and pancakes. And these waffles prove that feeding muscles is pretty delicious!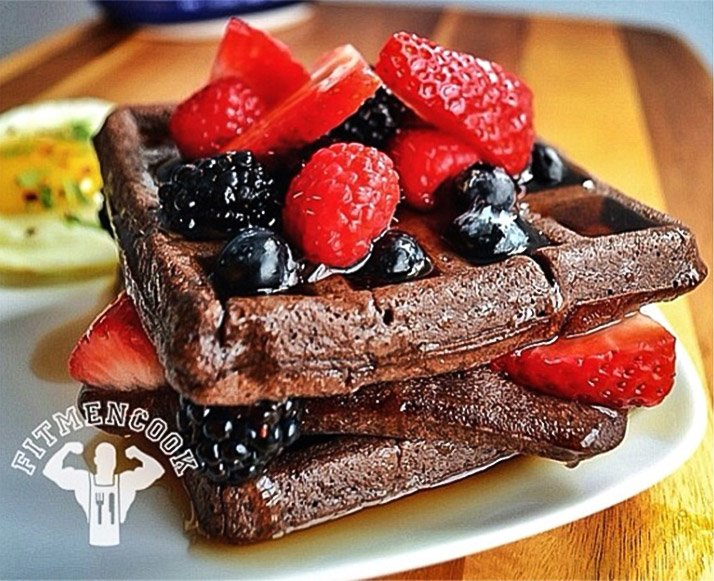 INGREDIENTS
GASPARI NUTRITION MYOFUSION 1 SCOOP
EGGS 1
EGG WHITES 1
SORGHUM FLOUR 1/4 CUP
ALMOND FLOUR 1/8 CUP
ALMOND MILK 1/3 CUP
STEVIA 1 PACKET
DARK CHOCOLATE HERSHEY'S BAKING POWDER 1 TBSP
DIRECTIONS
In a bowl, mix protein powder, sorghum flour, almond flour, cocoa powder, Stevia or sugar.
Add eggs and almond milk and mix or blend.
Spray waffle iron with coconut or olive oil.
Pour batter onto the waffle iron and cook.
When waffles are done, drizzle with fruit, your favorite sugar-free syrup, or both.
[/nextpage]